Highlights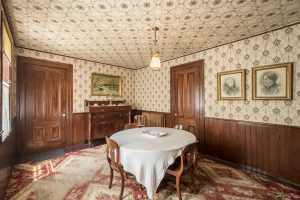 The restoration of the Susan B. Anthony House, an edifice that is now more than 150 years old, has been an ongoing project since 1998. Today, the restoration is 90% complete. The result, even before completion, is an exceptional transformation of 17 Madison Street to its appearance the last time Susan B. Anthony herself was here.
On the exterior, we have secured the foundation, replaced the roof with cedar shingles and yankee gutters, repaired the chimneys, re-pointed the brick, rehabilitated the landscape, and updated mechanical and electrical systems. Inside the House, we have tackled major structural and mechanical elements, including restoration of plaster, walls, ceilings, floors, and windows, using the talents of local artisans who are skilled in historic restoration. We have also restored the House's aesthetics by installing historic-reproduction wallpaper, replicating the original faux-grain painting on doors, floors, and windows, and replacing late-twentieth-century light fixtures with modern equivalents of the original gas lights.
Our work continues, and we invite you to come to Susan B. Anthony's home through the process.  We're confident you'll agree that the change is remarkable and that Susan B. Anthony herself would feel right at home again at 17 Madison Street.
If you would like to help fund the restoration, maintenance, or support other exciting projects and programs at the National Susan B. Anthony Museum & House, click here.